COMMERCIAL POOLS & SPAS
---
We bespoke manufacture stainless steel swimming pools and hydrotherapy spas for industries and organisations such as leisure centres, football clubs, hotels, and schools.
The benefits of stainless steel have long been recognised in the chemical, pharmaceutical and food industries for its durability and corrosion resistant properties. It is these properties that make stainless steel the ideal material for swimming pools and spas.
Stainless steel swimming pools and spa are not prone to cracking, blistering, stains or discolouration, it is also aesthetically pleasing and extremely hygienic.
The durability of stainless steel means that it has a considerably longer life span than other materials that have traditionally been used in pool and spa manufacture. This makes stainless steel the most economic and cost effective material of choice.
Our swimming pools are quickly and easily installed, as the panels are prefabricated prior to our installation personnel arriving on site. This combined with the fact that excavation is not required, the time on site is considerably reduced, minimising any disruption.
Another great property of stainless steel is its elasticity. Unlike concrete, stainless steel will not crack with ground movement. This means you can be confident of the integrity of your pool for many years to come.
As our pools are free standing they can be installed in any location. Also, because they weigh considerably less than other traditionally built pools, the possibilities become endless. They can be installed on roof tops, first floors, basements and, in fact, just about anywhere!
FULL DESIGN SERVICE – FROM CONCEPTION TO COMPLETION
DOMESTIC SWIMMING POOLS
---
There is no better way to enhance your outdoor space and your property than with a beautifully designed stainless steel swimming pool.
The word "luxury" just doesn't do justice to what can be achieved anymore, no longer just a hole in the ground we can build above ground on land with a gradient below ground in cellars just about anywhere we have even built them on top of skyscrapers, the sky really is the limit.
Combining this with the huge array of glamorous pool finishes the choice is yours and the possibilities endless.
HYDROTHERAPY SPAS & POOLS
---
We have manufactured stainless steel hydrotherapy spas in all shapes sizes and finishes, we have installed them in basements for city based leisure clubs where the only access has been via a single stand size doorway. taken in and fabricated on site where other manufacturers couldn't dream of achieving this.
We can manufacture them to any design or shape to help you squeeze them into any odd shaped space you may have.
The Spa featured here was installed in a basement of a health club in Manchester two storeys below ground.
We work closely with architects, engineers, designers, contractors, and owners to develop each unique design. Our personal approach to every project enables us to give our clients exactly what they are looking for.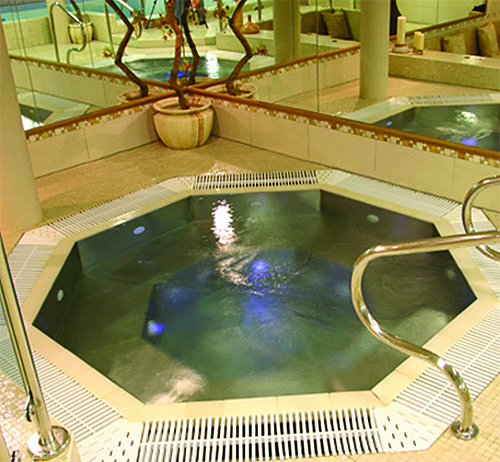 FREQUENTLY ASKED QUESTIONS
I want a paneled pool because of the weight issue but I don't want to look at a metal finish.
That's not a problem. You can have the pool finished in tiles or lined with vinyl instead.
Is a stainless steel pool more expensive than a concrete one?
No. A stainless steel pool is comparable in price but with many more advantages over more traditional building techniques.
How do I keep it clean?
Stainless steel pools are easier to keep clean than more conventional pools because the chlorine in the water keeps the stainless steel bright. Stainless steel does not need regular scrubbing.
Am I restricted to a particular design or shape?
No. Your imagination is the only limitation!
Can I have a stainless steel pool in my basement/penthouse?
Yes. Because our pools are built in 'kit' form, they can be located almost anywhere.
Do I need a flat concrete base?
Yes. Our construction method can support the pool with the aid of a light weight screed in-fill.
Portfolio
Please find below several images of our work in differing states of completion
Westfront Pools
---
Unit 4B
Palatine Ind. Est.
Causeway Avenue
Warrington
Cheshire
WA4 6QQ
---
01925 320804